If you are a parish priest and do not know in this digital era how to contact your parishioners quickly and efficiently, remember that Ecclesiared offers you several options to contact them comfortably.
The famous parish management program offers a very interesting option for all your parishes to communicate any kind of news to their parishioners, but how?
1.- Organize your databases in Ecclesiared
First we must organize our parish databases. Ecclesiared offers a "Catechesis and Youth" tab and a "Pastoral Agents" tab where we can keep track of all the people who are part of the parish. In this way, we will be able to have all the information of the parishioners associating each one to the group to which they belong. So, for example, if we create a group called "Caritas" we will be able to create all the records (in a personal file format in which we can fill in their data) of all the members of that group.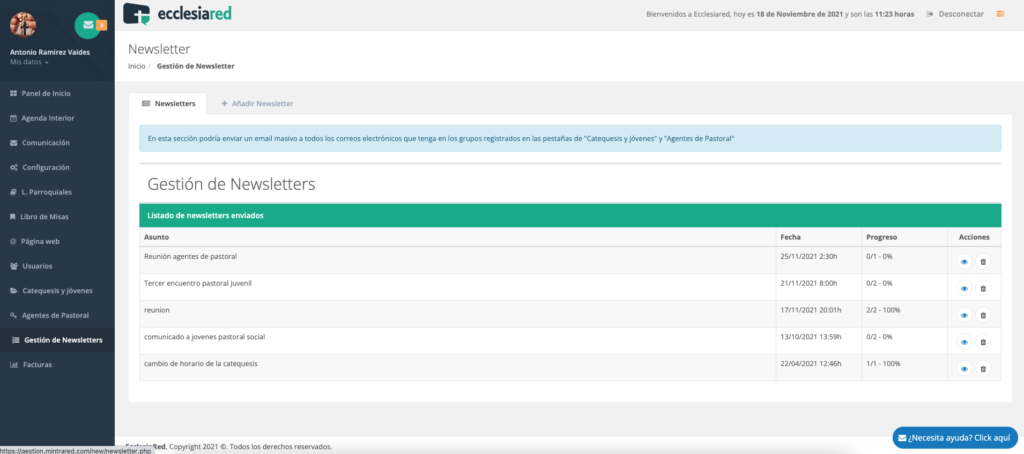 2.- Send mass emails to your groups from the "newsletter" module.
Once we have computerized all the groups of our parish with their members, we can go to the "Newsletter" module, which will allow us to comfortably send an email to each of the members. In this tab, we will only have to write a subject, a message, and then mark the group we want to send it to.
The operation is exactly the same as an email but the great advantage is that it already loads by default in the part of the "recipients" all the groups that we have added in the database modules "Catechesis and youth" and "Pastoral Agents".
In this way, we can send an announcement to thousands of people in a few seconds since we can send the announcement to all the groups that we select. Seconds later, the members of each group will receive the message from the pastor in the form of an email in their email inboxes either on their computers or on their cell phones.